Homage Restaurant | Chef-hatted dining experience celebrating local produce
View our menus
Make a Reservation
With a deep history firmly planted in the rich productive soils of the Scenic Rim, and a dining philosophy that pays enormous respect to the land, Homage restaurant is full of story, theatre and heart. Set on the site of an old 12,000-acre cattle farm, Homage emphatically embraces its bucolic surroundings and celebrates the paddock to plate concept like no other. 
The retreat's own market garden supplies an abundance of interesting fresh vegetables, herbs and fruits. Strong relationships with local farmers built up over the past decade ensure the freshest of sourced produce: the duck supplier is just minutes down the road; the fish supplier is nearby. These close connections bring great spontaneity to the menu – a morning call from a supplier notifying of freshly picked fruits or butchered meats set the kitchen's minds into action, dreaming of the possibilities. 
With two firepits, a wood oven and a smokehouse sending a flurry of secrets through the air, Homage puts a spotlight on traditional cooking techniques of fire, smoke and earth.
The menu always features at least one dish that offers a challenge to diners, such as emu tartare or kangaroo tail. Native Australian creations and ingredients such as riberry, lemon aspen, native pepper and wattle seed all add to the culinary adventure. Even simpler classic dishes surprise and delight with the addition of an unexpected twist. 
Recent accolades:
Two Chef Hats from the 2022, 2021 and 2020 Australian Good Food Guide 

One Chef Hat from the 2019 Good Food Guide

Best Fine Dining Restaurant' in QLD 2020 – QLD & NT Restaurant & Catering Hostplus Awards for Excellence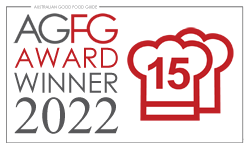 Phone
Location
617 Grandchester Mount Mort Rd, Grandchester, Queensland Australia
Grandchester QLD 4340
Opening Hours
Breakfast : 7:30am - 9:30am | 7 days -
Lunch: 12.00pm - Wednesday-Sunday | Bookings Essential | Please reserve in advance in case we are closed for a private event.
Dinner: 6:00pm | 7 days | Bookings Essential -
Upcoming Events at Spicers Retreats
Spicers Hidden Vale
Set on 12,000 acres, a modern Australian homestead remembering a bygone era offers space to relax, space to listen and space to embark on an adventure amidst the abundant wildlife.
Learn more.