The Long Apron | Refined. Innovative. Unexpected.
View our menus: Lunch Menu, Dinner Menu, Beverage List
With a well-earned reputation for innovative dining experiences, The Long Apron is a Chef Hatted restaurant offering a taste of France in the Sunshine Coast Hinterland. Whether it's an intimate tasting menu for two or a group celebration, The Long Apron is sure to surprise and delight.
Highly awarded, we take you on gastronomic journey, epitomising culinary creativity, sharing our love of food and wine with you along the way. We are delighted to have been recognised with one Chef-Hat from the Good Food Guide (2020), two Chef-Hats in the Australian Good Food Guide (2020 and 2021) plus the Readers' Choice award for the European category and ranked 18 in the Delicious Top 100 Restaurants for 2019.
We are registered as a COVID safe establishment. Details are available here
Our private dining room is perfect for intimate dinner parties or you can relax in our tranquil gardens with a charcuterie platter and a glass of champagne.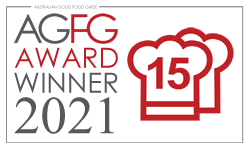 Phone
Location
38-68 Balmoral Rd, Montville Queensland Australia
Opening Hours
Breakfast: 7.45am - 9.30am
Lunch: 12.00pm - 2.00pm - Fri - Sun
Dinner: 5.30pm & 8.30pm - 7 Days
The Long Apron is open to the public, please reserve in advance.
Make a Reservation
Spicers Clovelly Estate
Set on a gentle rise in the tranquil Sunshine Coast hinterland hills, Clovelly's European inspired luxury creates a charming and relaxed atmosphere.
Learn more.