There are few dining experiences more distinguished or more cherished than the comfort, warmth and familiarity of classic French Bistro dining. At The Long Apron, this tradition is embraced and elevated, bringing a hearty taste of the rolling hills of the French countryside and cobbled Parisian boulevards to the Sunshine Coast Hinterland.
View our menus: Lunch Menu, Dinner Menu, Breakfast Menu, Beverage List, Picnic Hamper
Considered a destination in its own right, The Long Apron's intimate and inviting French provincial setting and ever-changing menu puts a spotlight on quality food that leaves you entirely satisfied, yet keeps you intrigued. The team create classic French dishes without pretence, and draw on classic French ethos and technique, matching time-honoured disciplines with contemporary artistry.
The kitchen places great importance on sourcing only the best and freshest local, sustainable and single origin ingredients, and maintains strong relationships with local farmers and providores. Local seafood is featured, as are superior quality meats, and vegetables.
Diners can explore the menu by choosing either an a la carte or tasting menu experience. A small sample of dishes that have featured on the menu in the past and are illustrative of the style include marinated scallops with heirloom tomato, caramelised cream and perilla; eye fillet with confit potato, pickled mushrooms and bernaise; duck breast with pear, chestnut and Jerusalem artichoke; and cheesecake with white chocolate Sorbet, passionfruit and sablée. An extensive wine list leans towards the vineyards of France, especially Champagne, Burgundy, Bordeaux and Rhone. Premium wines by the glass are available, and petite fours and wine tasting in the library can be enjoyed prior to seating.
A lengthy, indulgent stay at The Long Apron seems most suitable, as you soak up the ambience and refined, innovative and unexpected cuisine.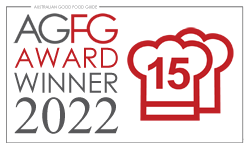 Phone
Menus
Please note that we aim to keep the menus on our website as up to date as possible. However, our primary endeavour is to provide you with an incredible culinary experience, and because of this our menu does change constantly and what you see here might not be the same exact same menu as what you will experience in the restaurant. We welcome you to call us to find out more about the current offering
Location
38-68 Balmoral Rd, Montville Queensland Australia
Opening Hours
Breakfast: 7.30am - 10.00am
Lunch: 12.00pm - 2.00pm - Fri - Sun
Dinner: 5.30pm & 8.00pm - 7 Days
Spicers Clovelly Estate
Set on a gentle rise in the tranquil Sunshine Coast hinterland hills, Clovelly's European inspired luxury creates a charming and relaxed atmosphere.
Learn more.